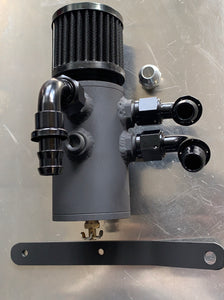 Our baffled catch can kits  come with all you see here with tapered rubber hose ends to fit 2.7 valve covers and valley pan. With our hoses there is no need to keep any piece of your old oem spiderhose. Each kit is shipped with instructions on how to install. All hoses come labeled where to install them and are guaranteed to fit over stock valve cover pcv ports and valley pan port. 


If items must be returned for reasons other then failure a 90 day return policy post purchase is aloud. Buyer is responsible for shipping and all items must be returned in their original packaging. A 20% restocking fee applied. 
Please note this product and all associated components are for off road use only.